Clothing Speaks your Etiquette Before You Do
Whatever the event, you have the ability to control and create the perception others have of your self-image and good manners.  Because a polished and appropriate appearance is the first thing others see, you can set an immediate favorable tone based on what you are wearing and how you look.
Well-fitted, high quality coordinated garments, worn clean and pressed, in styles and colors that are culturally appropriate to the formality of the event, or your position, and even geographic location tell the world that you are to be respected because you respect yourself and have dressed with care for others around you.
The most classic definition I know for a Gentleman (or Lady) is one who strives to ensure the comfort of others around him (or her).
Flushed out a bit, I would add these three points:
Dress with awareness for the occasion (follow formality guidelines)
Dress in a way that is not distracting (ex. awareness of how much skin is showing)
Dress age-appropriate (skip the Converse with dress clothes over age 25)
This suggests one does not arrive with the intent to steal the show with flash, loud color, and pattern nor do you show a lack of respect for your hosts and the invitation by arriving in something that is too casual, or ill-fitting or poorly maintained.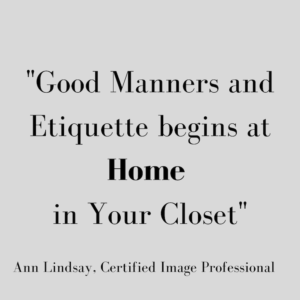 Does ANYONE dress up anymore?  The answer is YES!  But, you are correct – so many events (and workspaces) are more casual now – but this is important: The more casually you dress the MORE important details matter.  Details like garment fit, quality, and neatness as well as high caliber grooming practices (fresh trimmed neck for men, recent "no-roots" hair coloring for women as examples).
I wanted to leave you with a few tips to ensure your success, but please know you can always reach out and ask me – a quick call or email like that is no charge.  Happy to help.  
My Social Event Unspoken Dress Code Rules of Thumb:
If the invitation came on a real card through the US mail, (hopefully dress code was mentioned, or you can ask) assume it's dressy.  Wear a dressy pants suit, a dress, or a darker toned suit or sportcoat and trousers and take your cues for how "creative" (brighter colors and patterns) to be based on the tone and design of the invitation and your knowledge of the hosts.
If it was an emailed or texted invite, but you suspect either a formal dining room table, a hired server, and/or real napkins will be employed, begin your attire deliberations similar to the above, but with a little more creative and casual license.
If the event is casual, but knowing your host you'd guess beverages will be served in real glassware and food on real plates, show respect by arriving wearing a casual sports coat, a button-up collared sports shirt over casual pants that you can take off later. Ladies, dark denim can be worn with a dressier top.
If the invite is clearly very casual, outdoors, just make sure you are dressed neatly, in layers for the weather, no collar required. Shorts are fine here.
If you would like to have a deeper understanding of what to wear and prepare for the upcoming events of your life, that is an excellent reason to schedule a closet clearing and wardrobe analysis with me!  I am told that your only regret was why you didn't do it sooner. 🙂
Ann Lindsay is Suited for Love and Style of Success  
I work to make sure you arrive looking effortlessly confident.
Image Consulting      —       Personal Styling
High ROI Personal Shopping for Men and Women       —       J.Hilburn Menswear Stylist
Click here to contact me by email, text, phone or to schedule a free zoom call